THE PLANTATION ON CRYSTAL RIVER

A Treasure Restored

A brand-new $7 million renovation enhances this unique resort's Southern hospitality and style – with all the latest amenities. The restoration includes an elegant manor house, villas, condos, guest houses, pool, hot tub and health club, as well as volleyball, tennis, shuffleboard and croquet. It's all located next to sparkling waters, snorkeling with the manatees and watching dolphins. Bike or ride horses on trails among the swaying palms and Spanish moss.
Crystal River, florida rates to be: October 22, 2023 to April 23, 2024:
2 day school Sat.-Sun., or Monday-Tuesday – $471
3 day school Friday-Sunday or Monday – Wednesday – $699
4 day school Monday to Thursday – $931
5 day school Monday to Friday – $1161
Alumni 10% discounts apply to all packages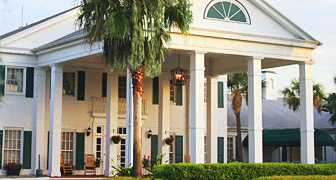 Start with a par-72 18-hole championship course. Toss in a nine-hole executive course specifically designed for training and practice purposes. Add a golf school offering America's most successful teaching program. Now stand back and take a look at what you've created: golf heaven. Located on the unspoiled shores of the Gulf Coast of Florida with easy access to Tampa, this championship golf course is part of a beautifully restored lodge and resort, including an elegant manor house, villas, condos, guest rooms, hot tub and pool, as well as volleyball, tennis, shuffleboard and croquet. Nine holes of golf were developed for the use of Golf School patrons. Make your visit even more memorable by diving into the 72 degree water at King Springs, just a few hundred yards from our front door, to snorkel with gentle manatees, explore underwater caves, or watch dolphins and a myriad of fish. You can also enjoy biking or horseback riding among trees dripping with Spanish moss, boat any of the many spring-fed rivers, or watch the innumerable species of birds and waterfowl that are attracted to this area.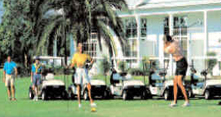 Renew your game in new surroundings
The Original Golf School™ at the newly remodeled Plantation on Crystal River. Since 1983 The Original Golf School has made its winter home at this deluxe resort in beautiful Crystal River, Florida, just north of Tampa. Now, the Plantation Golf Resort and Spa is even more inviting with renovations to all existing guest rooms, as well as 60 new hotel rooms and 11 golf villas adjacent to the challenging 27-hole golf course.
Golf is played on a course, of course. Hitting balls on the range or putting on the practice green is not our idea of on-course instruction. The Plantation Golf Resort and Spa has nine championship holes dedicated exclusively to personal instruction. So you learn skills such as course management and proper club selection on the course, not near it.
Experience the Difference
PGA Professional Jay Morelli has directed The Original Golf School™ since its inception in 1978. In 2006, Golf Digest rated Jay the #1 teacher in Vermont, and he was also named "New England PGA Teacher of the Year" in 1989. He and his staff of professional instructors average 15 years of experience each – longer than most schools have existed.