History
The Original Golf School was one of the first golf schools in the United States. Over the years we have served as a model for hundreds of other schools, but no other school can match our success. Since 1978 we have graduated more than 85,000 students. Since opening day in June 1978, The Original Golf School has been under the direction of PGA Professional Jay Morelli. During the past 28 years we have learned a thing or two about golf instruction and helping our guests get more enjoyment out of the game of golf. During those years we have developed our proprietary teaching system: The Accelerated Golf Method™.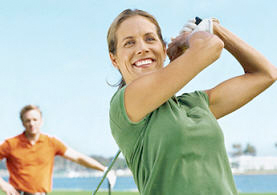 WHAT SETS US APART: Continuous improvement over the life of your game
The Original Golf School brings together several components critical to learning. You'll not only improve while you're here, but you'll be able to keep improving every time you play.
4-to-1 Student-to-Pro Ratio
Learning requires a balance of advice and practice. Our low student-to-pro ratio ensures you get personalized instruction along with time to work with new methods, learn from other students, and try things over and over until you understand what you're doing wrong and what you're doing right.
On Course Instruction
You will be able to play on the golf course with a real pro golfer during your instruction.
Experience
Our instructors are the most experienced staff in the golf school business.
THE ACCELERATED GOLF METHOD™

Our trademarked teaching method starts you close to the hole, so you can develop control before adding power. We emphasize incorporating the big muscles of your body into your swing to improve balance and create a strong foundation.
A Complete Vacation Experience
At The Original Golf School, you'll be immersed in golf – but you'll also have time to enjoy the company of other golfers, fabulous food, relaxing amenities, and all the other interesting sights and recreational opportunities available at every one of our resort locations.
Packages include
5 hours of instruction daily
On-course instruction
Use of course with cart after class
Emailed video swing analysis
Unlimited use of practice area and range balls
Lunch each day of instruction
Free instruction booklet
Golf school gift
Welcome party
Jay, We so enjoyed our time with you and feel your teaching will provide a solid foundation for our improvement. After watching the attached video, Linda is convinced she has plenty of time to learn, play and enjoy the game. Thanks again for a wonderful three days and we hope the rest of your winter season is successful. Our best to you and Sue and we will see you in Vermont when the snow is gone.
I approached my 1st experience with golf with low expectations and a sense of humor. The experience provided by pro/teacher Sue Newell during a 3 day program under the more than professional direction of Jay Morelli exceeded any and all expectations! They made this complex and potentially (always???) frustrating game fun. I WILL be back. I recommend the Original Golf School to anyone who, like me was considering sticking their toe in the "golf waters!"
My only complaints are that my head swims at night with visions of the perfect fairway shot and nightmares of how MOST of mine actually go!
Thank you Sue and Jay!"